Radiation-free listening experience
Keep electrosmog at a safe distance with radiation-free headphones
Due to their technology, EMV+ stereo headphones are the most advanced EMF-free headphones in the world. Because of the integrated air-tubes, they are not only free of harmful radiation, but also increase the surround sound and deliver crystal clear, lively stereo sound. 
Conventional headsets transmit the radiation directly into the ear
Conventional headsets and hands-free kits are equipped with dynamic capsules that generate high magnetic fields (electrosmog) directly at the head. Possible consequences include malaise, headache, nervousness or insomnia.
The EMV+ Anti-Radiation Headsets, however, have an advanced earpiece and a special shielding that reduce negative health effects. A modern technology, which is also recommended by many instances.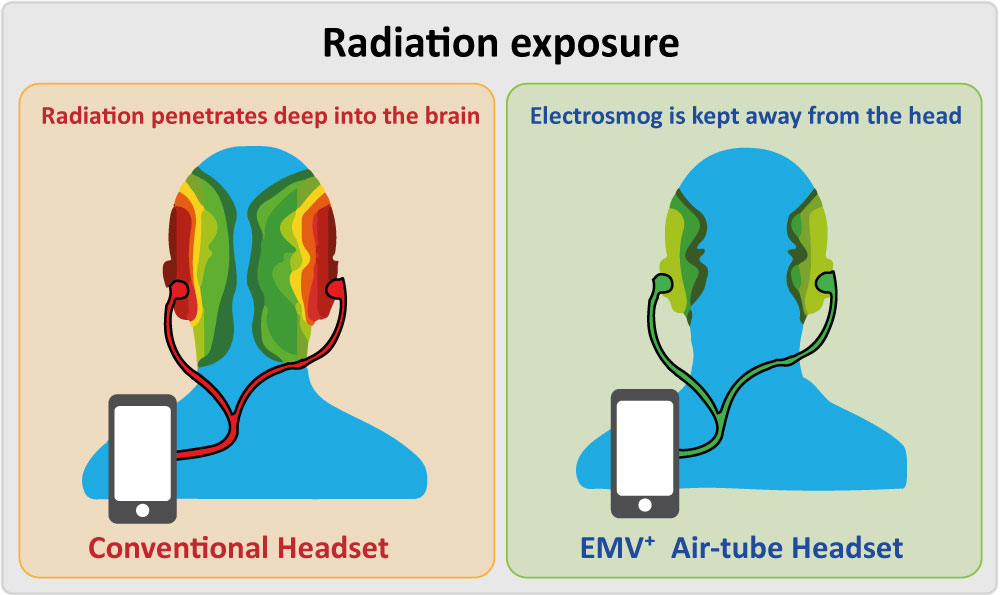 Air-tubes reduce electrosmog
In ordinary headphones, the electrosmog-generating speakers are located directly in the earplug. However, when using the EMV+ headset, a narrow air hose (Air-tube) transmits the sound from the speaker in a safe distance to the ear. Due to this interruption between the earplug and the acoustic coupler (loudspeaker) radiation is not transmitted into the head area.
This makes it possible to eliminate electrosmog in the relevant frequency range for humans up to 100%. The EMV+  anti-radiation headsets are therefore ideally suited for electrosensitive persons. With the EMV+ headset, you protect yourself and effectively prevent health risks.​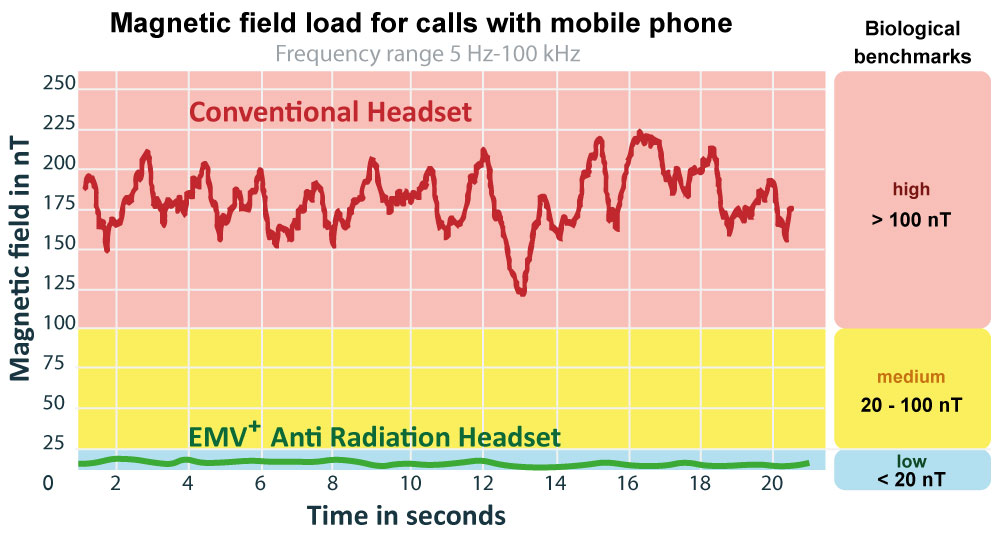 Even media report more of the negative effects of electrosmog, so ÖKO-TEST wrote in August 2000 on normal corded headsets that these hands-free devices only keep your hands free, but do not protect you from radiation. Contrarily, they transmit the electrosmog from the cell phone directly into the ear. Critical physicians have blamed pulsed electromagnetic radiation for a range of effects in the body such as changes in brain waves, headaches, nervousness or insomnia. Hands-free devices that direct the radiation right up to the head are therefore "not recommended" according to the ÖKO test.